Przewozy autobusowe
Nasza firma zajmuje się przewozem osób na terenie kraju i zagranicy.
Transport osób na terenie kraju oraz Europy z naszą firmą to sama przyjemność.
Decydując się na skorzystanie z naszej oferty możesz liczyć na:
Wysoki standard podróży dzięki nowoczesnej flocie pojazdów w oparciu o którą to świadczymy usługi a klimatyzacja, nawigacja, DVD, audio to standard w naszych pojazdach.
Wyspecjalizowana kadra naszych kierowców w połączeniu z ich doświadczeniem zawodowym stanowi nieodłączny atut naszej oferty.
Zawsze sprawną Flotę – posiadamy własną bazę warsztatową wyposażoną w najnowsze narzędzia, dzięki którym nasza Flota jest zawsze sprawna.
Realizujemy usługi "door to door" – w ramach usługi realizujemy przewóz zawsze "od drzwi do drzwi" zgodnie z adresami wskazanymi przez klienta.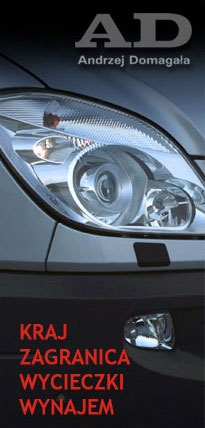 Realizujemy:
Wyjazdy Turystyczne
Wyjazdy do pracy (wymiany pracowników)
Wyjazdy okolicznościowe
Przewóz osób na terenie kraju oraz Europy
Obsługujemy:
Osoby indywidualne
Firmy oraz Instytucje
Zorganizowane grupy
Nietypowe zamówienia
Umożliwiamy:
Rezerwację Terminów
Negocjacje Cen
Wjazdy Expresowe
Wybór Autokaru